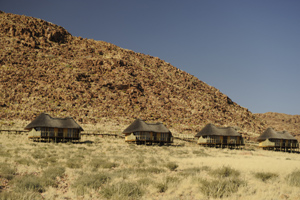 Accommodation is offered in 25 spacious chalets - thirteen on the left of the main area, with views of the dunes; and the remaining 12 chalets, on the right of the main area, having a view of the mountains and the Sesriem Canyon.
The chalets are linked by raised wooden walkways.
All chalets are built in an eco-friendly Afro-style manner using wooden frames, canvas for walls and topped by a thatched roof.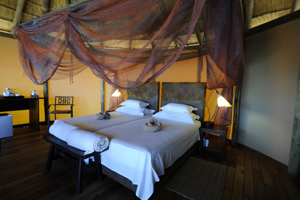 • Panoramic desert and mountain views
• Two ¾ beds
• Mosquito Net
• en suite bathroom with a hot shower, double
basin and a flush toilet
• Bath essentials
• Plush Bath robes and slippers
• Wardrobe
• Private room safes
• Lighted make-up mirror and desk, Hairdryer
• exotic African ornaments mixed with leather and dark wood finishing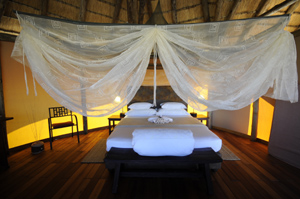 • Lounge area with artistically-designed suede loungers
• large verandah, overlooking the vast expanse of the Namib deserts landscape
GUEST SERVICE
• Meet and Greet service at the landing zone
• Twice-daily housekeeping attention with
evening turndown service
• Room service upon request